STOP PRESS!
Here is an update on the programme and when tickets will be available.
The programme will be on the website on Saturday 3rd October – www.cuckfieldbookfest.co.uk – where details of each event will be given via the What's On tab.
To ensure that everyone has a chance to buy tickets from the same starting point, we are not releasing any for sale until 10am on Wednesday 14th October.
You will be able to buy tickets online with no booking fee or extra charges at www.ticketsource.co.uk/cuckfieldbookfest or via the link on the website.
You can also call Ticketsource on 0333 666 3366. Please quote Cuckfield Bookfest. There is a £1.75 booking fee for this option but postage is included.
To ensure social distancing, Ticketsource will allocate tickets so this year it will not be possible to buy tickets in person or at the door on the day.
Tickets are non-refundable unless COVID-19 intervenes and the events have to be cancelled. Events are subject to change and Cuckfield Book Festival cannot be responsible for programme changes.
We want to assure you that current local and
governmental COVID-19 regulations will be adhered to at all times during Bookfest. Social distancing and hygiene measures will be arranged and enforced and all risk assessment requirements will be prioritised and met for the protection of everyone involved.
By buying a ticket you are choosing to visit the book festival at your own risk.
Although the festival will be smaller than in previous years, we are really looking forward to welcoming you and hope you will come and enjoy some interesting and stimulating events.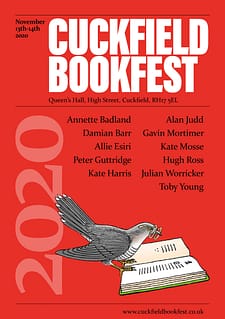 Thank you so much for your continuing interest
and engagement with Cuckfield Bookfest.
DON'T FORGET – TICKETS WILL BE AVAILABLE ON OCTOBER 14TH
BUT NOT BEFORE!