About the festival

Cuckfield Book Festival began in 2016 when three friends who were literature festival groupies had the idea of putting on a festival in the village of Cuckfield. So from small beginnings in 2017, it has grown steadily and in 2022 nearly 2000 people came to enjoy a wide variety of talks and workshops.
Authors who have appeared at Cuckfield BookFest include: Richard Osman, Mel Geidroyc, Andrew Lownie, Damian Barr, David Hendy, Lisa Jewell, Wendy Joseph, Robert Lacey, Steve Richards, Simon Williams, Nick Wallis, Simon Fanshawe, Katie Kirby, Gavin Mortimer, Ian Williams, AC Grayling, Raymond Antrobus – and many more besides.
Sheila Chasser was one of the three founders and was an enthusiastic and hard-working member of the team.  Sadly, she died very suddenly just after the 2022 festival.  We miss her warmth, her energy and indomitable spirit.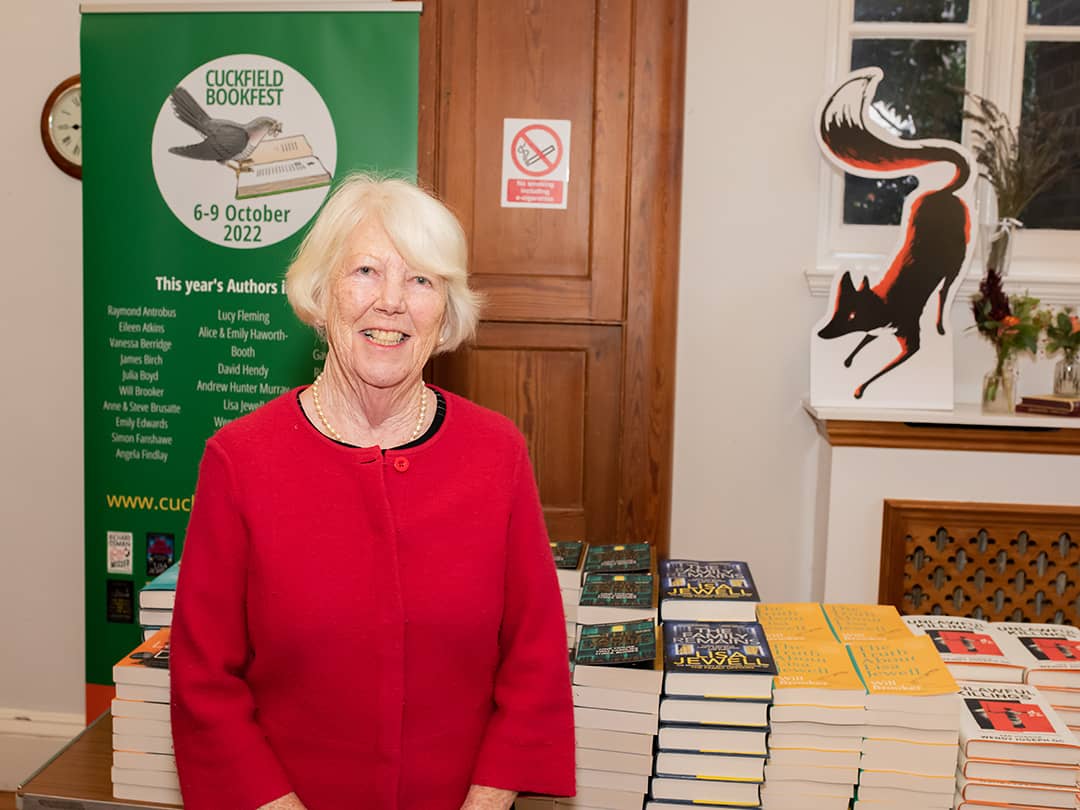 The whole festival had a lovely atmosphere and a real buzz about it and I am so glad if our event contributed to that and was well received. I must say, you run a cracking good festival! There was such a buzz. So thank you for inviting me again, I really enjoyed it.
Julia Boyd
Thank you very much for the invitation to the Cuckfield Book Festival. It was a memorable day and a privilege to be part of such a well-organised and prestigious event.
I thought the session went very well – I certainly shifted a good number of books! – and that was principally because of Alan's deft touch.
From what I saw and sensed, the whole weekend was an astounding success, and the village seemed to be buzzing as a result.
Keep up the good work!
Gavin Mortimer
Firstly, congratulations on another successful and much appreciated event. Everyone I spoke to yesterday seemed to be having a thoroughly good time, and there was much enthusiasm for things I missed earlier in the weekend
Julian Worricker
Many thanks for another wonderful Cuckfield Bookfest.  It was, as always, a huge pleasure to participate in this wonderful event. As in previous years, there was a tremendous programme and everyone (authors and attenders) seemed to be very happy with the sessions and arrangements. 
Several people commented very positively to me.  It was also great to see many of the team I have met in prior years.  I know how much work goes into creating such an impressive event.
Kate Harris
Thank you so much for having us at the Book Festival- it was such fun and everybody looked after us so well.
The audience were great and seemed to have had a good time.
Lucy Williams
Please pass along our thanks to EVERYONE on your team. Everyone was so welcoming to us. It was one of the most pleasant experiences we've ever had a book festival, anywhere. So well done, and cheers, and I hope you can all get some rest this week.
Steve Brusatte
I'm just writing to say thank you for organising such a wonderful event on Sunday. It was one of the most professional experiences I have had as an author, and the whole thing seemed to go like clockwork..
I cannot tell you what an honour it was to be interviewed by Julian, and I am deeply grateful to you and your volunteers for making me feel so welcome and looked-after. I am only sorry I wasn't hungry enough to try some of the wonderful-looking lunch on offer.
I sincerely hope Cuckfield goes from strength to strength and I do hope you'll have me back when my next book is out.
Nick Wallis
Thank you very much for putting it together with your incredible team and wonderful hardworking volunteers.
A visitor
I enjoyed myself enormously at Cuckfield.
Dame Eileen Atkins
The Magnificent BookFest Team
There are many people who work tirelessly to make BookFest so successful each year. From choosing great Authors to join us, to preparing the Quiz or Children's Events – to sound and lighting, all our volunteers are greatly appreciated.
The Board of the Festival consists of:
Sheila Mortimer (also MD of the management committee)
Gavin Jamieson
Allie Young
Shauna Bevan
Debs Treyer-Evans
Andrew Lownie
Julia Webb
Sarah McConnell
Management Team
Annie Rees – Catering
Pat Hegarty – Quiz
Paul Davey – Technical
Angela Magness – Ockenden Manor supper
Carol Jarvest – Marketing
Digital Expertise
Claire-Louise Clark – Social Media
Sally Nakajima – Website