7.30pm for 8pm
Literary Quiz
THE HAYLOFT, THE TALBOT, HIGH STREET, CUCKFIELD
£10 per person to include a glass of wine
The quiz is two weeks earlier this year. Tables are for six people but there's no need to come in a group of six as we can allocate tables to anyone who wishes to join us. If you do want to be a party of six but book separately, please be sure to tell us the names of your party when you book.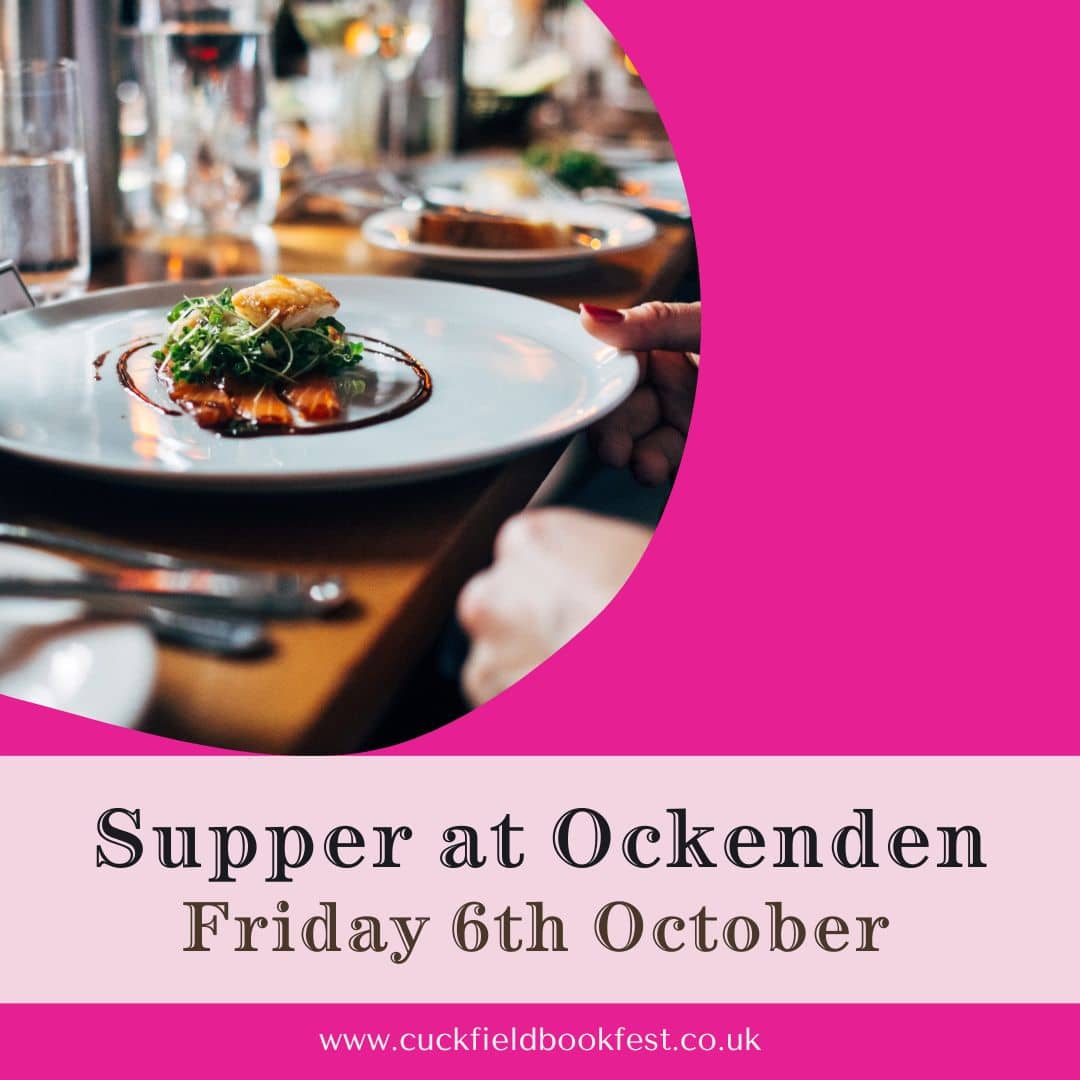 7.00pm for 7.30pm
Supper at Ockenden Manor, Cuckfield
with Greta Scacchi
Tickets are £70.00 each and include a glass of sparkling wine at the welcoming reception.  A two-course meal will be served with four bottles of wine on each table of ten people.  Greta Scacchi, well known for her career in films and theatre (she's going to be at the Orange Tree Theatre, Richmond in She Stoops to Conquer this Christmas) will be talking about her life and career.
Tickets will be available when booking opens on 4th September at 9am and they are not available through Ticketsource. https://cuckfieldbookfest.co.uk/supper/
Numbers are limited to 70 people so early booking is advised.  We hope that people attending the supper will also buy tickets for at least one BookFest event.
Sebastian Payne
The Fall of Boris Johnson
with Philip Collins
£12.00 per person
With unparalleled access to those who were in the room when key decisions were made, Payne tells of the miscalculations and mistakes that led to Boris's downfall, only two years after he first entered No. 10 Downing Street. This is a gripping and timely look at how power is gained, wielded and lost in Britain today. Sebastian Payne recounts the full narrative of the betrayals, rivals and resignations that led to the dramatic Conservative coup.
Sebastian Payne is a director of the think tank Onward and former columnist with the Financial Times.
Emily Maitlis said of The Fall of Boris Johnson: 'delicious detail, break-neck speed and a curiosity which is both urgent and empathetic'.
Sebastian is in conversation with Philip Collins, columnist on the Evening Standard who writes a column called Look, Stranger! on Substack. Sebastian and Philip will also be talking about politics generally.
Polly Morland
A Fortunate Woman
Ike Anya
Small by Small
Becoming a Doctor in Nigeria
with Kate Harris
£12.00 per person
John Berger's classic 1967 account of a country doctor's life A Fortunate Man led to Polly Morland writing this book.  She found a copy amongst her mother's books when clearing out her house.  The setting for the book was the valley in which Polly lives which led her to the doctor now practising in the same valley.
Interweaving the doctor's story with those of her patients, this is a unique portrait of a 21st century family doctor.
A Fortunate Woman was short-listed for the 2022 Baillie Gifford Prize for Non-Fiction. Ike Anya
Ike Anya's Small by Small charts the triumphs and failures of his student days in Nigeria. His medical memoir is filled with the colour and vibrancy of tempestuous 1990s Nigeria, where political unrest, social change and a worsening economy make a doctor's life particularly challenging.
Ike Anya is a consultant in public health medicine working in Nigeria and the UK. Co-editor of The Weaverbird Collection of New Nigerian Writing, he has an MA in Creative Non-Fiction.
Polly and Ike will be talking to Kate Harris about the very different aspects of medicine in the UK and in Nigeria.
Deborah Moggach
The Black Dress
with Peter Guttridge
£12.00 per person
The Black Dress is a beautifully observed, darkly funny, tender and surprising novel about life changes and the unexpected twists and pleasures of being alone.  Left on her own after her husband walks out, Pru goes to a friend's funeral – but it's the wrong funeral.  Everyone is unexpectedly welcoming and Pru decides to buy a little black dress and take herself off to other funerals. What harm can it do?
'Moggach is at the height of her powers' said the Sunday Times.
Deborah is a British novelist and award-winning screenwriter and she will be talking to Peter Guttridge about her long and successful career, which includes writing the book that became The Best Exotic Marigold Hotel.
11.30am – 12.30pm
THIS EVENT WILL NOW BE TAKING PLACE IN THE TALBOT PUB, CUCKFIELD
Ben Rogers
The China Nexus
and
Ian Williams
The Fire and the Dragon
with Andrew Lownie
£12.00 per person
Drawing on Ben Rogers' 30 years of experience as a journalist and human rights campaigner in and around China, The China Nexus examines the international community's response to the challenges posed by Beijing and offers ideas for ways forward for a China policy.
Ben is a regular contributor to national and international media. He often briefs and advises parliamentarians.
In 2017, on the orders of Beijing, he was denied entry to Hong Kong.
The Fire of the Dragon examines the new cold war's many fronts – from Taiwan and the South China Sea to the Indian frontier, the Arctic and cyberspace. Beijing has strengthened its alliance with Vladimir Putin, supporting Russia's aggression in Ukraine.
Ian Williams has reported from China for the last 25 years. The Fire of the Dragon was shortlisted this summer for the Orwell Prize for Political Writing.
Ben and Ian will be in discussion with Andrew Lownie, board member of Cuckfield Book Festival and a literary agent.
1pm – 2pm
Oliver Soden
Masquerade
The Lives of Noël Coward
with Stephen Gale
£12.00 per person
The voice, the dressing-gown, the cigarette in its holder, remain unmistakeable. These were props and costumes for a series of parts that Noël Coward performed to perfection: idiosyncratic actor, wealthy playboy, wartime patriot, and national treasure. Above all he was a writer and composer, of immortal comedies and classic songs. Rarely a week passes when Private Lives, Hay Fever, or Blithe Spirit is not in production.  In May this year, there was a rare production of The Vortex at Chichester Theatre.
Soden's unflinchingly forthright and unsparing portrait is the first serious biography of Noël Coward in 25 years. Filled with archival revelations, including a multitude of lost plays, MASQUERADE gives the fullest picture yet of Coward's complex personal life.
Philip Hensher in the Spectator said 'there's every reason to think that Coward will last forever – and this excellent biography is just what he deserves'.
Oliver Soden went to school locally. His biography of Michael Tippett won a Somerset Maugham award. 
Stephen Gale, a long time admirer of Coward's work, will be in conversation with Oliver Soden.  
1.30pm – 3.00pm
UPSTAIRS IN THE TALBOT
Writing and Publishing
An Insider Guide with Local Authors
£15.00 per person
Local authors will discuss the challenges, the opportunities and the preparation of writing, publishing and promoting their books.  This discussion will provide would-be authors with advice and guide them through the route to publication that is best for them. There will be plenty of opportunity for questions.
Gavin Jamieson, board member of Cuckfield Book Festival and founder of Lapwing Publishing Services, a local hybrid publisher will lead the discussion. His book Water's Gleaming Gold has just been published.
Margaret Mounsdon writes regularly for women's magazines such as Women's Weekly, The Lady, and The People's Friend.
Alison Rendle and Kit Messenger are co-authors of Curious not Furious empowering children to take charge of their brains and behaviour.
Patricia Rykiel is co-author of Don't Break My Rice Bowl, a novel that revives her late father's 'forgotten' semi-autobiographical manuscript.
2.00pm – 3.30pm
Duncan Minshull
Where My Feet Fall
£12.00 per person
Please meet outside the Queen's Hall at 2.00 pm where the walk will also end.  Dogs welcome!
Why do we walk? Where do we walk from and what is our destination?  In Where My Feet Fall, 20 outstanding writers set out with old memories and new adventures. Together they capture the magic and opportunity that can arrive when you put one foot in front of the other.
This event will be limited to 25 people who should assemble at the Queen's Hall, Cuckfield at 2pm.  Duncan will escort the group on a gentle walk round Cuckfield, stopping every now and then to read an excerpt from such diverse authors as Will Self, Kamila Shamsie, A.L. Kennedy and Irenosen Okojie.  The walk will last about 60-80 minutes.
Duncan Minshull is a freelance audio producer and anthologist and formerly a senior producer at BBC Radio. He takes people on 'walk and talks' just about everywhere around the UK.
2.30pm- 3.30pm
Nick Sharratt
Super Silly Museums
This event is in the Queen's Hall.  Recommended for 4 years and upwards.  Tickets are £6.00 each, no matter how young or old.
Children must be accompanied by an adult. Please remember to bring paper, drawing things and something to rest on.
Do you love visiting museums and do you love being super silly? Well, do we have the perfect family event for you, perfect for all ages! Much-loved illustrator Nick Sharratt will be taking you on a guided tour of the most magnificent Super Silly Museums you'll ever visit, in this giggle-fest session packed with jokes, puns and drawing activities.
Don't forget to bring everything you need to draw, and prepare to be amazed at your own spectacular illustrations!
4pm – 5pm
Lynne Barrett-Lee
Ghost Writing
and
Louise Willder
Blurb Your Enthusiasm
with Steven Gale
£12.00 per person
There are many different aspects of publishing and two of the less well-known are ghost-writing and blurb writing, although ghost-writing did feature in the publicity surrounding Spare, Prince Harry's recent book, ghost-written by J. R. Moehringer.
In this session, Steven Gale digs into both.  Lynne Barrett-Lee has ghosted 26 memoirs many of which have been Sunday Times bestsellers.
Louise Willder's book Blurb Your Enthusiasm asks what are blurbs really doing (other than trying to twist your arm)? It is all about those 100-or-so words of jacket copy that take seconds to read but can make a world of difference.
Lynne and Louise will be talking to Steven Gale who has worked at many literary festivals all over the world.
4pm – 5pm
UPSTAIRS@CUCKFEST
Martyn Rady
The Middle Kingdoms
A New History of Central Europe
£12.00 per person
From the Roman Empire onwards, Central Europe has been the target of invasion from the east. In the Middle Ages, these invaders became the Turks, Swedes, Russians and Soviets, all of whom pulled the region apart and remade it according to their own vision.
This was the first home of the High Renaissance outside Italy, the cradle of the Reformation, the starting point of the Enlightenment, Romanticism, the symphony and modern nationalism. It was a permanent battleground too for religious and political ideas.
Peter Frankopan, reviewing The Middle Kingdoms in the Spectator, called it a 'magisterial history' and says 'the breadth of Rady's coverage is as impressive as it is eclectic, with gems scattered throughout'. 
Martyn Rady is Masaryk Professor of Central European History at University College London. 
5.30pm – 6.30pm
Robert Jobson
Our King
Charles III: the Man and the Monarch
and
Ian Lloyd
The Throne
1,000 Years of British Coronations
with Nigel Jones
£12.00 per person
Our King
Robert Jobson's book is the definitive biography of King Charles with exclusive material and insight from a source close to the King himself.  It is an authoritative look at Charles's life, relationships, charitable endeavours and his future as King.
Dubbed 'the Godfather of royal reporting' by the Wall Street Journal, Robert Jobson has been at the forefront of royal reporting for over 25 years.
The Throne
Ian Lloyd recounts many of the human details at coronations: a joust to celebrate Elizabeth I's coronation was postponed as the queen was 'feeling rather tired'. There was chaos at Victoria's unrehearsed coronation with an incompetent Archbishop of Canterbury, champagne-drinking peers with their coronets askew and infirm guests rolling down stairs.
Specialising in the British Royal family, Ian Lloyd has spent 20 years as a writer and photographer. He writes regular newspaper features and is a frequent royal pundit on Sky News, BBC News and
BBC Radio 5 Live.
Rob and Ian will be in conversation with Nigel Jones , a journalist whose latest book Kitty's Salon is a story of sex, spying and surveillance in the Third Reich.
5.30pm – 6.30pm
UPSTAIRS@CUCKFEST
Elizabeth Sharkey
Why Britain Rocked
How Rock Became Roll and Took Over the World
with Tim Pope
£12.00 per person
The story goes that under the influence of blues and rock and roll, Britain suddenly started making spectacularly great music in the 1960s, like some clever, quick-learning cultural satellite of America. But this pop music explosion didn't happen from a standing start. Featuring new discoveries and original insights, Why Britain Rocked: How Rock became Roll and Took Over the World argues the Beatles' arrival, which stunned the world, really shouldn't have been surprising at all.
From the Celts, Henry VIII, and the Quakers to Ira Aldridge and Paul Robeson, Why Britain Rocked uncovers the events and unexpected influences that encouraged British pop to be glorious, crazy, luminous, joyous, profound, melancholic, ferocious, anarchic, witty, smart and wonderful in all its ways.
Elizabeth Sharkey is an actress and voiceover artist who has worked extensively in television and film. She is married to the musician and environmentalist Feargal Sharkey and lives in North London.
Tim Pope, who will be discussing Why Britain Rocked with Elizabeth, is particularly, is particularly known for his music videos.
7pm – 8pm
Allie Esiri
365 Poems for Life
with
Annette Badland and Hugh Ross
£12.00 per person
This anthology of 365 poems offers readers a moment of escape from daily life through some of the warmest words in the English language. Whether you're looking to boost your wellbeing or searching for wisdom from the past, this collection is perfect for sharing with others or for reading privately.
Poems featured are from a wide range of writers, including Maya Angelou, Simon Armitage, Carol Ann Duffy, Ocean Vuong, Nikita Gill and many more.
Allie Esiri's best-selling anthologies have lit an explosion of interest in poetry in the UK. Performances at the National Theatre  and festivals, with poems read by actors, are capturing a new generation of poetry lovers.
365 Poems for Life is being published on National Poetry Day. The poems selected will be read by Annette Badland, an award-winning actress known for her stage work and her television roles in Ted Lasso, Midsomer Murders, Outlander, Big Boys, The Crown and Strike. Hugh Ross has had a distinguished acting career. Most recently he has been seen at Chichester Theatre in The Vortex.
Two pupils from Hurst College will also be on stage with Annette and Hugh.
10am – 11am
Ian Marchant
One Fine Day
A Journey through English Time
with Peter Guttridge
£12.00 per person
After a chance enquiry into his ancestral history, Ian discovered Thomas Marchant, a Yeoman famer and his Great (x7) Grandfather – and Thomas's detailed diary from 1714 to 1728.
Thomas wrote about life on his family farm in Sussex, about fishponds, dung, horses, mud, and about the making and drinking of beer. But Thomas was also a Fifteener, a Jacobite sympathiser determined to bring down the monarchy.
One Fine Day is Marchant's story of diving deep into the daily life and concerns of the 1720s, as he navigates his own health problems and the political turmoil of the 2020s. Cuckfield Grammar School, founded about 1512, even gets a mention. By turns funny, lyrical, moving and illuminating, this is a conversation with our ancestors to find out what is still alive and what we have to learn from them.
Monique Roffey said:  'Marchant has written a book everyone should read, a complex, joyful, polyglot of a book for our troubled times.'
Ian Marchant has worked for 25 years as a writer, broadcaster and performer. He is a regular presenter on BBC 4's Open Country and is a frequent diarist for the Church Times.
10.00am – 11.00am
UPSTAIRS@CUCKFEST
Andy Verity
Rigged
with Phil Craig
£12.00 per person
The LIBOR Scandal was a highly-publicised scheme in which bankers at major financial institutions colluded with others to manipulate the London Interbank Offered Rate (LIBOR).  The health of a bank is judged by Libor – the higher the Libor, the worse off the bank. Rigged tells the incredible true story of the whistleblowers jailed after exposing the rotten heart of the financial system and recounts the cover-up at the highest level on both sides of the Atlantic. Andy Verity shows why all the defendants are innocent, and how many real culprits go unpunished.
Andy Verity is the economics correspondent for BBC News and has led the media in exposing the true story behind the scandal of interest rate rigging.
Andy will be in conversation with Phil Craig, an award-winning filmmaker, who is also half of the Scandal Mongers Podcast with Andrew Lownie.
11.30am – 12.30pm
Matthew Wilson
The Hidden Language of Symbols
£12.00 per person
Why do we reach for the red rose on Valentine's day? Where did the owl gain its reputation for wisdom? Why should you never trust a fox? In this visual tour through art history, Matthew Wilson pieces together a global visual language enshrined in art: the language of symbols.
Covering the entire breadth of human history from 28,000 BCE to the modern day, this inspiring illustrated account of 48 key symbols from global art history is aimed at gallery-goers, armchair art sleuths or anyone who wants to understand the history of their visual environment from an unusual and creative angle.
Matthew Wilson is a writer, teacher and art historian who has written for numerous publications including BBC and Aesthetica magazine.
1pm – 2 pm
Helen Fry
Women in Intelligence
The Hidden History of Two World Wars
with Alan Judd
£12.00 per person
In two world wars, women took on an extraordinary range of roles in intelligence, defying the conventions of their time. Helen Fry brings ground-breaking research to record the work of women in the Belgian network 'La Dame Blanche', knitting coded messages into jumpers; to those who ran entire sections of British intelligence or who worked as aerial image interpreters; to those who led resistance networks behind enemy lines.
The book provides an incredible account of the efforts of women across two world wars, shining a light on the hidden legacy in intelligence.
Historian and biographer, Helen Fry's last book, Spymaster: The Man Who Saved MI6 was named one of the Daily Mail's Best Biographies.
Helen will be in conversation with Alan Judd, author of the biography of the founder of MI6.  He is also master of the espionage novel and his latest book Queen and Country was published in 2022.
1pm- 2pm
UPSTAIRS@CUCKFEST
Sarah Graham
Rebel Bodies
A Guide to the Gender Health Gap Revolution
with Dr Ginny Ponsford and Kate Harris
£12.00 per person
Have you ever been to a doctor and felt like you were being fobbed off? Did they belittle or overlook your concerns about your health? You are not alone. Women make up 51% of the population and are the biggest users of healthcare services – for themselves and as mothers and carers. But all the research shows there are critical gender differences when it comes to men and women's healthcare.
Unsurprisingly, the data backs up the suspicion that women's suffering has been disbelieved.  We are not trusted to make informed choices about our own bodies and worse, as revealed in this book.
Sarah Graham is an award-winning freelance health journalist and founder of the Hysterical Women blog, specialising in health, gender and feminism.  She will be in conversation with Dr Ginny Ponsford, a local GP and menopause specialist.
The two women will be talking to Kate Harris, non-executive adviser to a technology start-up company that offers medical support for the menopause.
UPSTAIRS IN THE TALBOT
2pm – 3.30pm
Ella Berthoud
Bibliotherapy Workshop
£15.00 per person
Ella Berthoud is the founder of the bibliotherapy service at The School of Life, spreading bibliotherapy around the world. She began the unique offering of bibliotherapy as a way of helping people to overcome life's ups and downs by prescribing fiction that truly has the power to enchant, enrich and inspire.
This session will be limited to a maximum of 25 people so there will be plenty of audience participation and Ella will be able to prescribe books that open new perspectives, shed light on your life, and re-enchant the world for you.
2.30pm – 3.30pm
Natalie Haynes
Divine Might
Goddesses in Greek Myth
£12.00 per person
Natalie Haynes' examination of the role of goddesses in Greek myth introduces us to Athene, goddess of war and wisdom; to Artemis, goddess of hunting and protector of young girls; to Aphrodite goddess of sex and desire, and more besides.
These goddesses are as mighty, revered and destructive as their male counterparts. Isn't it time we looked beyond the columns of a ruined temple to the awesome power within?
Natalie Haynes is an author, broadcaster, classicist and comedian, best known for her retelling of ancient myths. Her BBC Radio programme  Natalie Haynes Stands Up for the Classics took a fresh look at the ancient world, creating stand-up routines about figures from ancient Greece and Rome.
2.30pm – 3.30pm
UPSTAIRS@CUCKFEST
Kathryn Harkup
Superspy Science
Science, Death and Tech in the World of James Bond
£12.00 per person
The world of 007 is known for its guns, gadgets and grandiose schemes to take over the world. In Superspy Science Kathryn Harkup explores how science and technology intersect with the world of James Bond – the arms, technologies, tactics and downfalls of his various foes, from the practicalities of building a volcano-based lair, to whether being covered in gold paint really will kill you, and if you plan to take over the world whether it is better to use bacteria, bombs or poison.  Film by film, Superspy Science will explore some of the many tropes that we have come to expect from a James Bond adventure.
Kathryn Harkup  is a science communicator, chemist and vampirologist who
writes and gives regular public talks on the disgusting and dangerous side of science.
4pm – 5pm
Mat Osman
The Ghost Theatre
with Peter Guttridge
£12.00 per person
Mat Osman's book is dazzling punk re-imagining of Elizabethan London through the eyes of a clairvoyant, bird-worshipping protagonist and an unlikely theatre troupe. On a rooftop in Elizabethan London, two worlds collide. Shay is a messenger-girl and trainer of hawks who sees the future in the patterns of birds. Nonesuch is the dark star of the city's fabled child theatre.
Together they create The Ghost Theatre: a troupe staging magical plays in London's hidden corners. As their hallucinatory performances incite rebellion among the city's outcasts, the pair's relationship sparks and burns against a backdrop of the plague and a London in flames. Their growing fame sweeps them up into the black web of the Elizabethan court.
Mat Osman is the bassist and founder member of iconic British rock band Suede and a composer of music for TV and films.
'Written with wit, invention and a luxuriantly gorgeous prose   … historical fiction that's larger than life'. The Guardian.
Mat will be discussing his book with Peter Guttridge, frequent visitor to Cuckfield Book Festival.
UPSTAIRS IN THE TALBOT
4pm – 5pm
Carrie Dunn
Unsuitable for Females
The Rise of the Lionesses and Women's Football in England
with Paul Hayward
£12.00 per person
In 1921, the Football Association introduced a ban on women's football, pronouncing the sport 'quite unsuitable for females'.
This book tells the story of women's football in England since its 19th-century inception through pen portraits of its trailblazers. Keen girl footballers will find Carrie's talk particularly fascinating and she will be happy to answer questions about the game that might have once been banned because of its popularity.  Now England's Lionesses are huge stars.
Carrie is the author of The Roar of the Lionesses and The Pride of the Lionesses. Unsuitable for Females was shortlisted for the 2023 Sports Book Best Football Writing of the Year.
Carrie will be talking to Paul Hayward, former chief sports writer at the Guardian, Observer, Telegraph and Mail.
5.30pm – 6.30pm
UPSTAIRS IN THE TALBOT
Paul Hayward
Co-author with Kevin Sinfield
The Extra Mile
with Gavin Jamieson
£12.00 per person
The Extra Mile is the memoir of one of the greatest rugby league players of all time, who in recent years has shown heroism of a very different kind through his extraordinary fundraising for motor neurone disease (MND), the terminal illness that has affected his best mate and former Leeds Rhinos teammate Rob Burrow.
Told with Sinfield's characteristic warmth, dry wit and inspirational leadership, The Extra Mile is the story of a remarkable, humble human being who has defied the odds.
Co-written with Paul Hayward, twice named Sports Journalist of the Year, The Extra Mile leapt to the top of the Sunday Times bestseller list on publication.
Paul will be in discussion with Gavin Jamieson, publisher, author and keen sports fan.
7pm – 8pm
UPSTAIRS IN THE TALBOT
BIG BOOK GROUP
Andrew Miller
The Slowworm's Song
with Julian Worricker
£12.00 per person
It's a story of guilt, a search for atonement and the hard, uncertain work of loving. Stephen Rose is an ex-soldier and a recovering alcoholic living quietly in Somerset.  He barely knows his daughter but wants to begin to form a bond with her before it's too late.  But then he receives a summons to an inquiry into an incident when he was serving in Northern Ireland.
Stephen fears this inquiry will destroy his fragile relationship with his daughter so he begins to write her an account of his life, a confession, a defence, a love letter.  But time is running out and the day comes when he must face again that day in 1982.
The Independent said 'The Slowworm's Song is a stunning work of fiction, a beautifully written tale of conflict and family fracture.'
Andrew will be in conversation with Julian Worricker, frequent visitor to Cuckfield Book Festival and familiar voice on BBC R4.
PLEASE NOTE: IF YOUR BOOK GROUP WOULD LIKE TO READ THE SLOWWORM'S SONG BEFORE THE EVENT BUT HAVEN'T GOT COPIES, WE HAVE SOME WE CAN LEND OUT.
PLEASE CONTACT info@cuckfieldbookfest.co.uk
IF YOU WOULD LIKE TO SEND IN A QUESTION BEFORE THE MEETING, PLEASE EMAIL IT TO info@cuckfieldbookfest.co.uk.  ALSO, THERE'S NO NEED WHATSOEVER TO HAVE READ THE BOOK TO ENJOY THE SESSION.