Highlights from
Cuckfield BookFest 2022
The 2022 Book Festival was packed full of an eclectic mix of Authors. With genres ranging from fiction, non-fiction, poetry, crime, politics, military, gardens to theatre there really was something for everyone.
Download a PDF of the 2022 programme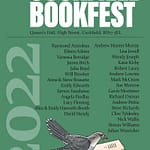 We were delighted to welcome Richard Osman to last year's BookFest and his event sold out in just a few days.
Brought up locally and a pupil of Warden Park School in Cuckfield, Richard is best known as the creator and co-presenter of BBC's quiz show Pointless.
After breaking records with his debut novel The Thursday Murder Club Osman's witty characters turn their backs on retirement once again to return to their sleuthing ways in his new book The Bullet That Missed.
Andrew Hunter Murray
This high-concept thriller will provoke and grip you from the very first page
Andrew Hunter Murray is a scriptwriter and fact hunter for BBC2's QI. He also provides journalism for Private Eye magazine. His first novel, The Last Day, was a Sunday Times bestseller and one of 2019's 10 biggest fiction debuts.
Andrew was joined by Steven Gale as they discussed his high concept thriller and how he creates the unsettling, gripping tension throughout the book.
'This is a smoothly written, thought-provoking tale about ageing societies and wealth inequality, with an effective shocker of an ending.' The Guardian.
Fans of science fiction and suspense will no doubt have enjoyed this superbly engaging event and the opportunity to meet this promising young writer.

Raymond Antrobus
A timely, humane and tender book from one of the most important young poets of his generation
Building on his award-winning debut collection, The Perseverance, All the Names Given is a collection of intimate, deeply personal poems flickering with gods and ghosts, and the painful electricity that runs up and down the wires of lineage and inheritance.
In 2019 Antrobus became the first ever poet to be awarded the Rathbone Folio Prize for best work of literature in any genre. His poem Jamaican British was added to the GCSE syllabus in 2022.
We were delighted he joined us last year at BookFest and his audienced very much enjoyed hearing him discuss his work with Vicky Macleroy.
Once again, a lively collection of authors entertained young people at Cuckfield BookFest
There was something for all ages and the programme was designed to engage and inspire young readers.

Do boomerangs work in space?

Can Usain Bolt outrun a hippo?
We discovered all the answers to these questions and more as the families played our fun and fascinating family quiz.
Quizmaster Andrew Pettie helped everyone to flex their family's trivia power in Cuckfest's BIG Britannica Quiz 2022.
Creative Writing Competition
Engaging Young Writers
We welcomed all budding authors to participate in our creative writing competition.  Young writers from Reception to Year 6 took part with schools all over the county getting involved.
The theme was A JOURNEY. Congratulations to all the prizewinners!

Children's BookFest was kindly sponsored by
Cumnor House Sussex
Ockenden Supper
This popular event was a casualty of Covid for two years so it was a particular pleasure to announce that it was taking place again last year on Friday 7th October.
Our star performer was  Steve Richards, the political columnist and commentator whose book The Prime Ministers We Never Had was recently published.  Steve regularly presents The Week in Westminster  on BBC R4 and his one-man show Rock n'Roll Politics takes a behind-the-scenes, highly entertaining look at what's going on in all the unruly and stormy political dramas of the moment.
It was an exhilarating and thought-provoking interlude, thoroughly enjoyed by all the guests.
Discovering the Science
Steve Brusatte was joined by Dr Hermione Cockburn OBE FRSE to discuss his book The Rise and Reign of The Mammals.
Professor Steve Brusatte is a palaeontologist on the faculty of the School of GeoSciences at the University of Edinburgh and is widely recognised as one of the leading palaeontologists of his generation. In his book he tells the fascinating story of the mammals, from their earliest development and their co-existence with the great reptiles to their emergence out of the shadows following the death of the dinosaurs, enabling them to become ascendant.
Hermione grew up in Cuckfield and went on to study geography and geomorphology at the University of Edinburgh, gaining a PhD in 1998. She is now the Scientific Director at Dynamic Earth science centre in Edinburgh.
We enjoyed hearing their discussions very much. If you would like to find out more about Brusatte's book click here.