Would you like to be our Friend?
The first thing to ask is have you become a Friend of Cuckfield Book Festival yet? Please do consider it as you will be helping the festival enormously – we are non-profit making and rely on ticket sales and sponsorship to fund the festival. If you would like to become a friend please follow the link HERE. We are starting the Friends in a low-key fashion and the main benefit this year is a three-day priority-booking window. The festival ticket booking system will open for Friends on 1st September and general booking will open on 4th September. All applications will be acknowledged and at the festival we will be offering you a symbol of your membership.
The programme is with the printer and you will be seeing ads for Cuckfest in the local village magazines very soon. We hope you will be really enthusiastic about the range of authors coming this year – it is varied and different. Quite accidentally but rather timely, an environmental theme has emerged. Juliet Nicolson is opening the festival with Frostquake, her fascinating account of the winter of 1962-63 when the snow began on Boxing Day and Britain was overwhelmed by the severe weather for the next 10 weeks. This is an enlightening social history told through the frosty lens of that winter.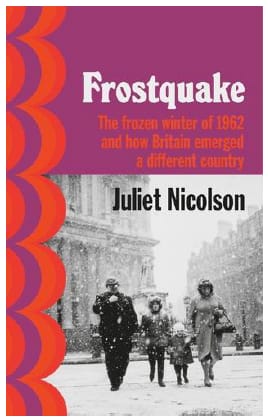 Sam Lee is a passionate conservationist and his new book The Nightingale is a unique and lyrical portrait of this elusive bird. John Lewis-Stempel called it 'the nature book of the year'. Sam may well sing a song or two – he is a renowned folk song expert. Talking to Sam will be Ruth Pavey who bought a wood in Somerset 20 years ago and in her latest book, Deeper in the Wood, she reflects on the resilience of nature.
The book chosen for the Big Book Group on Sunday evening, The Year Without Summer describes a world deeply affected by a climatic event – the 1815 eruption of Tambora when temperatures fell and summer failed to arrive. Guinevere Glasfurd will be there to ask us 'what is a story if not to propel us ….to provide an urgent impetus for us to act?'.
The children are in for lots of fun at the Old School on Saturday. Local author Sally Symes will be enchanting children under 5 with her rhymes which will involve a spot of dressing-up. There are three more sessions for children up to 12 years of age so something for everyone. Don't forget the poetry competition either (click HERE to find out how to enter).
And finally, many thanks again to those organisations and individuals who have generously sponsored us – their willingness to do so is much appreciated.
See you at Cuckfest!
Sheila Mortimer
Head of Programming