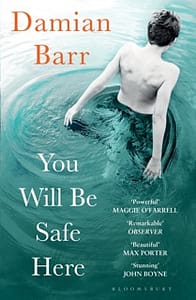 We do hope everyone is aware that the book festival is a little later this year – November 12th – 15th . This is because the Queen's Hall is not available for our usual weekend. But we'll still have a packed few days and being a little closer to Christmas, it will be the perfect opportunity to buy books as gifts and have them individually signed by the author.
Several people have already been signed up for Bookfest but the main event we want to announce concerns the Big Book Group, once again being held in the Hayloft of The Talbot on the Sunday evening. The book selected is You Will be Safe Here by Damian Barr. Damian opened our first Bookfest when he talked about his memoir Maggie and Me so we are particularly delighted that he is coming back. He is an award-winning writer and columnist who created and hosts his own Literary Salon.
You Will be Safe Here is set in South Africa where two mothers – a century apart – must fight for their sons, unaware their fates are inextricably linked. At the height of the Boer War, in the Orange Free State in 1901, Sarah van der Watt and her six-year-old son Fred are taken from their farm, by force, to Bloemfontein Concentration Camp where, the English promise, they will be safe.
In Johannesburg in 2010, sixteen-year-old Willem is an outsider who just wants to be left alone with his Harry Potter books and Britney, his beloved pug. Worried he's turning out soft, his Ma and her new boyfriend send him to New Dawn Safari Camp, where they 'make men out of boys.'
The Spectator called it 'Eye-opening and meticulously researched ', The Guardian said 'Barr's first novel is distinguished by its compassion, its wisdom and its remarkable sense of poetry.' And Good Housekeeping pronounced it a 'gloriously written novel'.
The book is now available in hardback and the paperback edition will be published on 10 April. Damian will be talking about his book at the Big Book Group and answering questions from the audience. We're announcing the chosen book for this event early in case book groups want to add it to their programme although there is absolutely no need to have read the book to enjoy the session.
There will be lots more information about Cuckfield Bookfest in the newsletters to follow. If you would like to join the mailing list please complete the form below: