11.30am – 12.30pm
The Power of Geography
with Ian Moss
£12.00 per person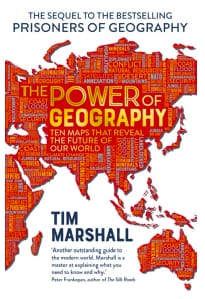 If you want to understand what's happening in the world, look at a map.
Tim Marshall's global bestseller Prisoners of Geography showed how every nation's choices are limited by mountains, rivers, seas and concrete. Since then, the geography hasn't changed, but the world has.
In this revealing new book, Marshall explores ten regions that are set to shape global politics in a new age of great-power rivalry. Find out why Europe's next refugee crisis is closer than it seems as trouble brews in the Sahel; why the Middle East must look beyond oil and sand to secure its future; why the eastern Mediterranean is one of the most volatile flashpoints of the 21st century; and why the Earth's atmosphere is set to become the world's next battleground.
Delivered with Marshall's trademark wit and insight, this is a lucid and gripping exploration of the power of geography to shape humanity's past, present – and future.
Tim Marshall is a leading authority on foreign affairs with more than 30 years of reporting experience in over 40 countries. He was diplomatic editor at Sky News, and before that was working for the BBC and LBC/IRN radio.
Tim will be discussing his book with Ian Moss, whose career has spanned politics and government, the music industry and academic publishing. Ian lives in Cuckfield with his family.