Saturday 14th November
5.30pm – 6.30pm
Queen's Hall
A Poem for Every Winter Day
with Annette Badland and Hugh Ross

£10.00 per person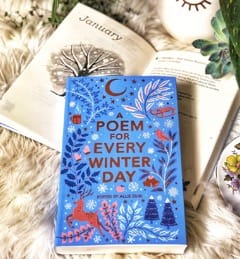 Within the pages of Allie Esiri's gorgeous collection, A Poem for Every Winter Day, you will find verse that will transport you to sparkling winter scenes, taking you from Christmas, to New Year's Eve and the joys of Valentine's Day.
Perfect for reading aloud and sharing with all the family, this book dazzles with an array of familiar favourites and remarkable new discoveries. It includes poems by Mary Oliver, Edgar Allan Poe, Thomas Hardy, E. E. Cummings and Robert Burns who sit alongside Joseph Coelho, George the Poet, Benjamin Zephaniah and Jackie Kay. This soul-enhancing book will keep you company for every day of winter.
Allie Esiri is a writer and curator of live poetry events. Credited with bringing poetry in to the digital age, her shows take place at major literary festivals.
Annette Badland is an award-winning actress who has appeared in Strike, The Crown, Criminal 2 and in Midsomer Murders. She also plays horrid Hazel in The Archers!
Hugh Ross trained at RADA and has had a long and successful acting career and is frequently heard on radio.
Annette and Hugh will be reading poems specially selected for Cuckfest.