2.30pm – 3.30pm
The Frontiers of Knowledge
What We Now Know about Science, History
and the Mind
£12.00 per person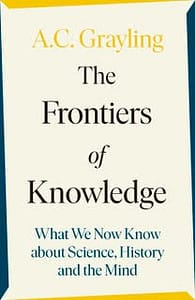 What do we know, and how do we know it?
What do we now know that we don't know?
And what have we learnt about the obstacles to knowing more? In a time of deepening battles over what knowledge and truth mean, these questions matter more than ever. Polymath and philosopher A.C. Grayling seeks to answer them in three crucial areas at the frontiers of knowledge: science, history and psychology. This a compelling and fascinating tour de force, written with Grayling's verve, clarity and remarkable breadth of knowledge.
The Daily Telegraph included the book in its best of summer reading feature, and Stephen Pinker says: 'Grayling brings satisfying order to daunting subjects'.
Professor A.C. Grayling is Master of the New College of the Humanities, and a
Supernumerary Fellow of St Anne's College, Oxford. He has written and edited over 30 books on philosophy and other subjects.